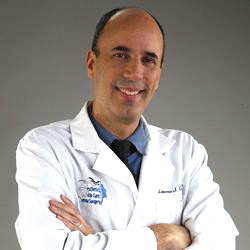 Dr. Lawrence Green, a Board Certified Dermatologist based in Washington, DC joins eHealth Radio and the Dermatology & Health News Channels. In honor of the recent World Psoriasis Day, Dr. Green discusses psoriasis, it's causes, and treatment options including SILIQ, a new FDA-approved treatment for the condition.
Listen to interview with host Eric Michaels & guest Dr. Lawrence Green discuss the following:
What is Psoriasis?
What Treatment Options Are Available?
Can You Tell Us More About SILIQ?
Who is the Ideal Candidate for SILIQ?
What Makes SILIQ Different?
Dr. Lawrence Green completed his undergraduate training at the University of Michigan, and earned his medical degree from New York Medical College in 1989. He completed his dermatology and dermasurgery residency at the University of California, Irvine, concentrating on advanced cosmetic skin surgery. In addition to this formal training, Dr. Green also completed a research fellowship focusing on new treatments for aging skin and therapies for psoriasis.

Dr. Lawrence Green has been voted a top dermatologist by Washingtonian Magazine in 2005, 2008, 2010, 2011,2014, and 2015. He has been selected as a Washington DC area "Super Doctor," has been listed in the national edition of Castle Connolly Top Doctor's directory, and is also listed in the Global Directory of WHO's WHO as a top doctor in Washington DC. Dr. Green is frequently interviewed by national television networks, radio, and large circulation newspapers and magazines.
As a past board member for the National Psoriasis Foundation, and member of the Acne and Rosacea Society, Dr. Green is called upon for his insight on difficult to treat medical conditions such as acne and psoriasis.He is regularly selected to speak to other dermatologists concerning emerging therapies for fat reduction, wrinkle fillers, and aging/sun damaged skin.
Websites: Siliq.com | Psoriasis.org