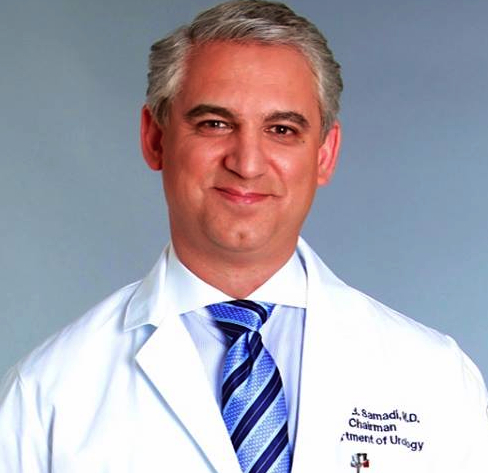 Dr. David Samadi, Chairman of Urology and Chief of Robotic Surgery at Lenox Hill Hospital and the inventor of the "Samadi Modified Advanced Robotic Technique," a minimally invasive robotic-assisted laparoscopic prostatectomy joins eHealth Radio and the Cancer Prevention and Health News Channels.
Listen to interview with host Eric Michaels & guest Dr. David Samadi discuss the following:
What are some of the unique and different skills you have, as a doctor?
How do you interact positively with support staff?
How do you remain current in your medical training?
How do you encourage patients to proactively manage their health and improve their habits?
Dr. David Samadi was born in Iran in 1964. He was forced to leave the Jewish community he was raised in because the country became embroiled in the Iranian Revolution in 1979. At the age of 15, Dr. Samadi made his way to Belgium and then London with his younger brother. When he was able to finally make it to the United States, he entered high school in Roslyn, New York.
After he graduated from high school, Dr. Samadi attended Stony Brook University where he studied for a degree in biochemistry on a full scholarship. He attended Stony Brook School of Medicine and received his M.D. degree in 1994. While he was at Montefiore Medical Center, Dr. Samadi received training in urology. He obtained his training in proctology at Albert Einstein College of Medicine and Montefiore Medical Center.
In 2001, Dr. Samadi finished his oncology fellowship in the area of proctology while he was at Memorial Sloan Kettering Cancer Center. In 2002, he traveled to France to study at Henri Mondor Hospital Creteil where he undertook a radical prostatectomy fellowship. During this time, he studied under Professor Claude Abbou.
Dr. Samadi invented his own robotic technique for performing prostatic surgery, and he called it "Samadi Modified Advanced Robotic Treatment" or SMART. Ordinarily, this type of cancer is known to be extremely deadly, but when Dr. Samadi used his SMART technique to treat his patients, nearly 90 percent of them could be declared to be free of cancer.
Because of his dramatic success as a surgeon, New York Magazine put his name on its "Best Doctors List." His name is also on the Castle Connolly "America's Top Doctors List."
Website: http://samadimd.com | http://prostatecancer911.com
Social Media Links:
Facebook: https://www.facebook.com/DrDavidSamadi
Twitter: https://twitter.com/drdavidsamadi